Choosing the Right Surface for Your Whiteboard Needs

The intended use and probable location of your whiteboard has a major influence on the type of whiteboard you should select to meet your need. Although the whiteboards offer various styles, frames and other material components, the writing surface is what you should match with your intended use.
There are many whiteboard surfaces using differing materials offered by manufacturers and the performance of each surface can greatly vary. General use of terms by manufacturers and retailers generally do not specifically distinguish the writing surface's material and performance. The most widely used term is "magnetic" or "non-magnetic" and even "dry erase white boards." There are superior magnetic writing surfaces and much lower quality magnetic surfaces. Some at the top price points and some fall into a budgetary bracket.
Use of the descriptive word "dry-erase" would apply to all whiteboard surfaces, but again, many different materials of various levels of performance are offered.
So how do you cut through the generic terms and vague product descriptions to find the right whiteboard for you? Let's go back to the intended use for the whiteboard and identify the applicable surfaces for the need.
There are many needs but four come to mind which cover the majority of use for whiteboards. Consider your need as we list the four major needs and identify the appropriate surfaces:
Short term use or budgetary constraints
High usage over a long period of time
Design, Application or Technology
Custom
Short term use or budgetary constraints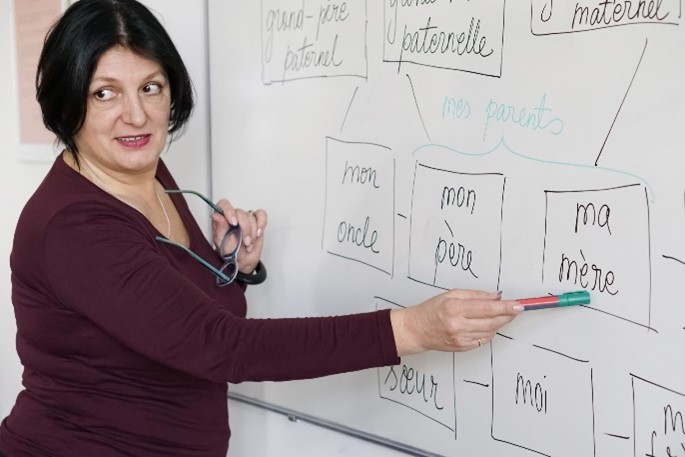 It's possible that a school may have an annual event where a whiteboard is needed for a day or two and then stored for next year. Or the buyer has only so much money to spend for the whiteboard. These are common needs, and you can easily find the best whiteboard value. Here are some options to consider:
Melamine – a very low-cost, non-magnetic surface that provides good writing and erasing performance with black marker but be careful with other colors. Reds, greens and blues can leave a light residue or "ghosting"; especially when inexpensive markers are used. To maximize performance and longevity, use a good quality marker pen. The surface can easily scratch and will wear out with heavier usage. Here is a good example of a melamine board we offer.
Acrylic Coating – a few manufacturers will use non-magnetic acrylic or acrylate coatings on a MDF or other sheeting material to offer a budgetary writing surface. This surface has a better resistance to ghosting, scratching and heavier usage. As with melamine, for better performance and longevity use a good quality marker pen. Typically, these surfaces will provide a warranty for a specific period. Take a look at one version of an acrylate board here.
Painted Steel – most described in literature and websites as "magnetic" this description often can be confused with other higher quality surfaces such a porcelain enameled steel if the buyer doesn't research additional specifications. The painted steel surface easily scratches and does not resist the effects of heavy usage. As a budgetary magnetic surface this is a good selection when needing a low cost, short-term usage whiteboard. Painted steel comes in a variety of sizes, like this one.
Heavy Usage over a long period of time
The most easily identifiable location for whiteboards needing to perform well over long periods of time with heavy usage would be the educational classroom. High traffic areas of commercial and healthcare buildings where messages are constantly updated test the longevity of dry erase surfaces. This can apply to retail and hospitality industries, as well.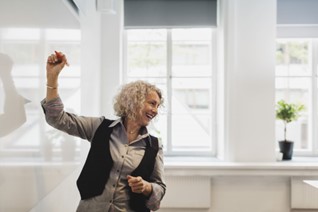 High Pressure Laminate – Although not necessarily a low cost or budgetary unit this is also a non-magnetic writing surface and offers a good, durable surface that will withstand heavy usage at slightly lower cost than other surfaces in this category. This surface has a very high gloss finish which provides very good writing and erasing characteristics but would not be recommended for projecting on. Of the non-magnetic surfaces, the high-pressure laminate surface typically offers the longest warranty period.
Powder-coated Steel – with a better bonding process for the writing surface, powder-coated steel offers good durability and performance. Although more resistant to scratching than the budgetary painted surface, marker colors may leave a slight ghosting which is easily cleaned with a dry-erase marker cleaner. The surface is magnetic and typically offers a warranty period in line with that of the high-pressure laminate or glass surfaces.
Porcelain Enameled Steel – the 1,200° F heat enameling process to coat a specialized steel produces the superior writing surface. It will not scratch, fade, or discolor. The surface comes with a Forever Warranty® which is impressive. As an FYI, there is only manufacturer of the porcelain steel surface in the USA so the likelihood of receiving their CeramicSteel e³ surface is very probable when buying any US manufactured whiteboard. For the money, it's the best value when needing a very durable whiteboard. Porcelain steel is offered by several brands, like this.
Design, Application or Technology
It's not just the corporate environment focusing on design, architects and designers of educational facilities realize the importance of design to enhance the learning experience. Whiteboard surfaces are also employing new materials to give spaces added style as well as utilizing space to facilitate new teaching methods.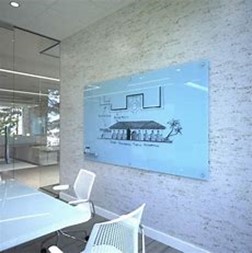 A significant addition among new whiteboard surfaces has been the introduction of the Glass Markerboard surface. Both corporate and higher education sectors have embraced glass surfaces for its contemporary design and the availability of various options such as colors and installation techniques. Unless optional glass surface treatments are selected, a standard glass board is highly reflective, and visibility of the marker ink is weaker than porcelain. Tempered and low-iron glass are the best specifications to look for in a glass marker board.
Full wall applications where an entire wall is covered with a dry erase writing surface has become extremely popular in both education and business. Porcelain enameled steel and glass writing surfaces for full wall applications is popular; however, a third option is dry-erase wallcoverings. These wallcoverings provide an excellent writing surface with optional magnetic or non-magnetic properties. The attractiveness of these wallcoverings is the cost when compared to the other two surfaces. Installation can be less difficult as well.
Technology in the classroom has led to the introduction of a whiteboard projection surface that reduces hot spots, glare and improving the overall image quality when interactive projectors are used. Buyers should note the projection surface is a wet erase surface. With a damp cloth or with use of a whiteboard cleaner, markers easily erase. Some whiteboard manufacturers offer a "Satin" gloss level which provides excellent dry-erase performance while reducing, but not eliminating, the glare and hot spot when projecting.
Custom Whiteboards
Customizing a whiteboard could be anything from an uncommon size, selection of a non-standard option or accessory to custom graphics on the writing surface. Not all manufacturers will consider customizing their units; however, Shiffler will know who to contact with your custom request.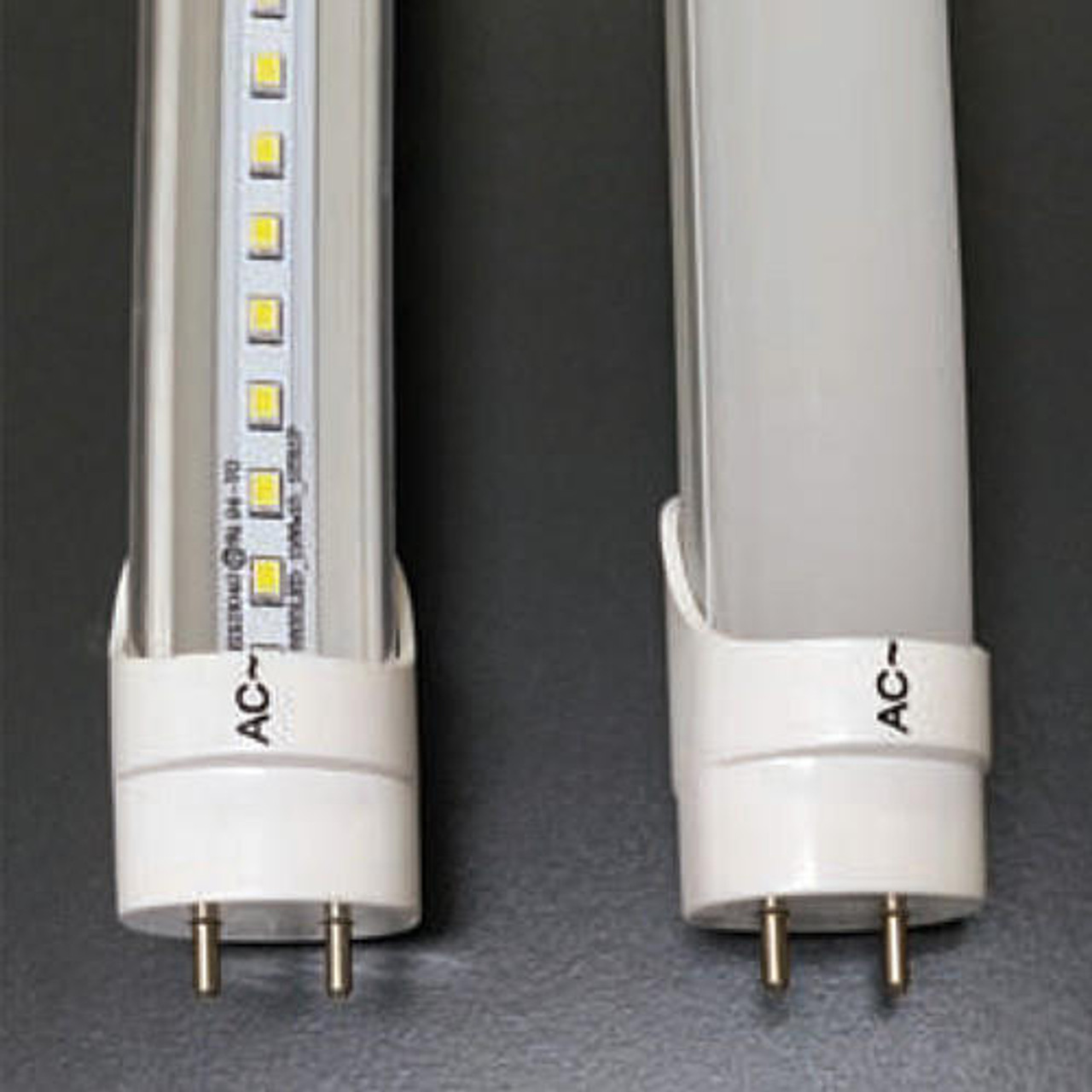 Bill Singhaus, Visual Display Category Manager for Shiffler Equipment Sales, has nearly 30 years working within the visual display board industry.