When choosing a table for school, there are several factors to consider. We here at Shiffler Equipment have worked for over 50 years to match our customers with the best quality and sharpest price classroom furniture. School tables are an essential part of a variety of classrooms! They encourage collaboration, help organize classroom layouts, and offer ample space for creativity.
Classroom tables provide a designated space for students to work, take notes, and collaborate with their peers. They can also be used to organize and store materials. Additionally, tables can be arranged in a variety of configurations to support different teaching methods and learning styles.
We have a dedicated inside sales team who can help suggest kiddie table options for your preschool, activity tables for your art room, and seminar tables for your high school classroom. If you are redesigning a full room plan, we even have designers on staff who can help make recommendations and share potential layouts. Our goal is to be your partner in each and every project, no matter how big or how small.
As with any classroom furniture purchase, our team here at Shiffler is ready to help! Call us (833-201-8186), chat with us here on site, or email us at any time! To get started, please read some of our frequently asked questions below on classroom tables.
What Size School Table Do I Need?
One of the most important factors of choosing a classroom table is size. You'll want to make sure the classroom table is large enough to accommodate all of your students' books, papers, and other materials, but not so large that it takes up too much space in your room. A classroom table can accommodate one or multiple students at a time so this should be part of your consideration, too.
You should also consider the shape of the table. Some tables are rectangular, while others are circular or oval. We even offer preschool tables in fun shapes, such as flower! These kiddie tables are attractive to young students while encouraging camaraderie.
Rectangular tables are great for studying and taking notes, while circular or oval tables are better for group work and collaboration. Whatever the shape, your school table needs to be the right size for your students based on their age, activity level, and your overall classroom size.
What is the Best Material for a School Table?
Another important factor to consider is material. Classroom tables can be made from a variety of materials, including wood, metal, and plastic. Wooden tables are traditional and classic, but they can be heavy and expensive. Metal tables are lightweight and durable, but they can be cold to the touch. Plastic tables are affordable and easy to clean, but they may not be as durable as wood or metal tables.
The material of your school table can also dictate the use. For example, science tables are some of the most utilitarian classroom tables as they are made of chemical resistant materials. Maple topped kiddie tables offer easy to clean surfaces that can wipe clean.
What Style Should I Choose for a Table for a Classroom?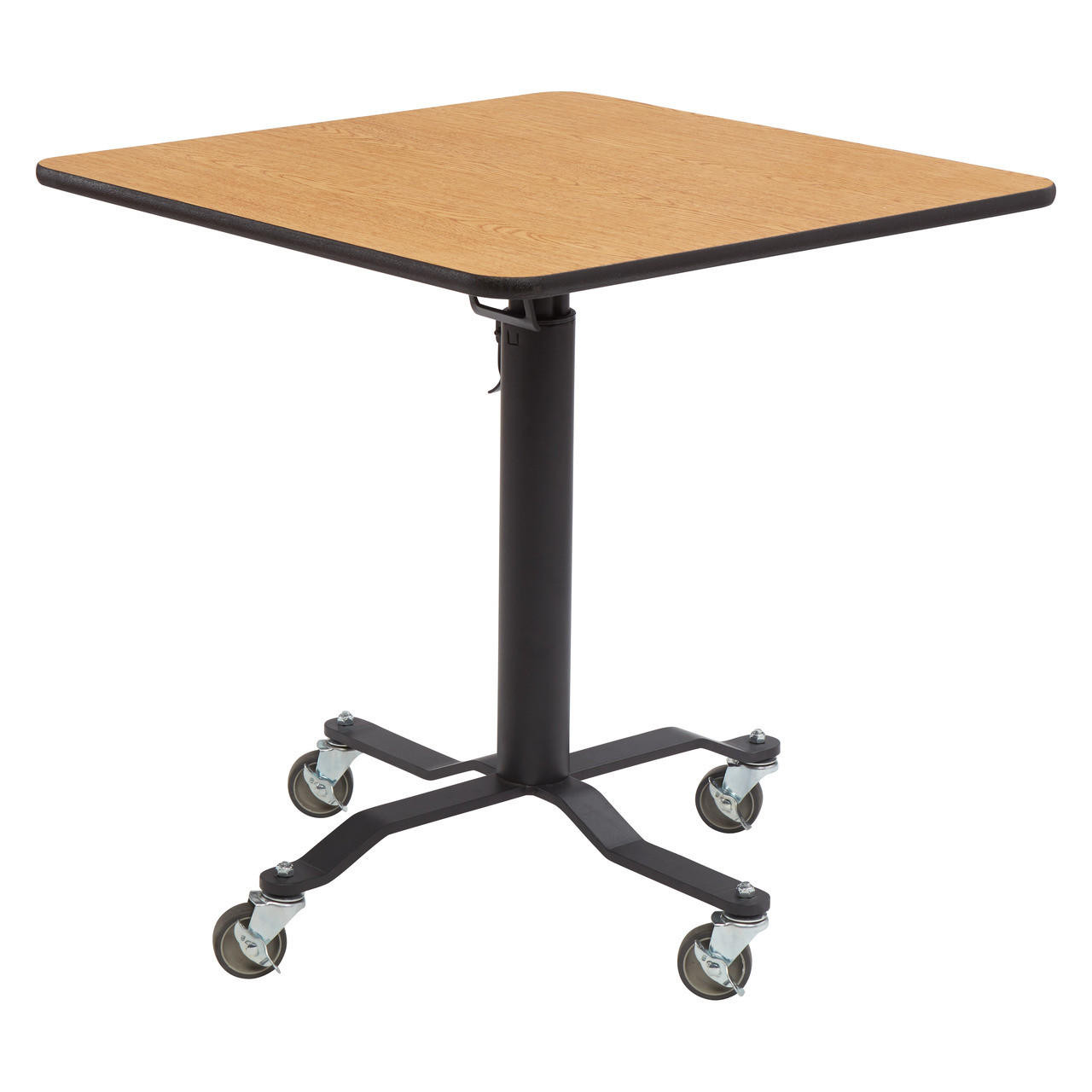 You should also consider the style of the table. Some tables have a more traditional look, while others have a more modern or minimalist look. Think about what style of table would best suit your space and your personal taste.
There are several different styles of classroom tables, each with their own unique features and benefits. Rectangular tables are a popular choice, as they provide ample space for students to spread out their materials and work. Round tables are also popular, as they encourage group collaboration and equal participation among students. Trapezoid tables are another option, as they can be arranged in a variety of configurations to suit different classroom activities. There are also height-adjustable tables, which can be used in a variety of settings and accommodate different age groups. Science and lab tables are designed to withstand chemical spills and high temperatures. And there are tables with built-in power and data ports, which allow students to easily charge and connect their devices.
Mobile tables are useful as classroom tables, especially when teachers need to move classrooms. Folding tables can also work well as tables for schools as they can be setup for demonstrations, stored with easy, and moved depending on demand. Lunch tables for schools are obviously a very specific type of school table. We have a dedicated section on site for lunch tables as well as cafeteria replacement parts. If you are unsure of what type of table to use in your classroom, activity tables are versatile and a safe option for a school table.
How Much Should I Expect to Spend on a Classroom Table?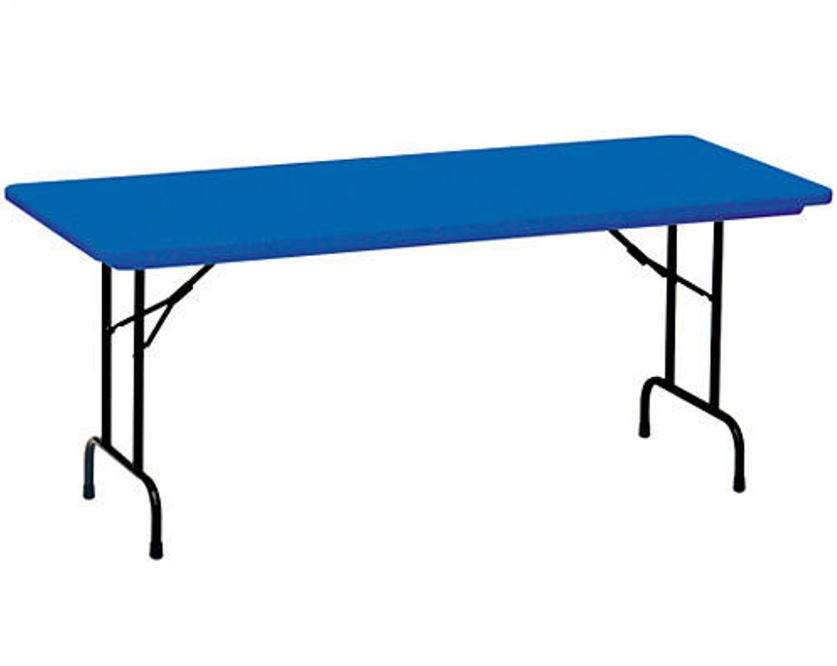 Finally, you should consider the cost of the table. Tables can range in price from a few dollars to several hundred dollars. While you'll want to make sure you get a quality table that will last for years, you also don't want to break the bank. Depending on the size, material, and style, classroom tables can cost less than $100 and up. Look for a table that is within your budget and has the features you need. We offer volume and bulk discounts so let our team know that you're in the market for new school tables and we will help get you the best rates possible!
What Brands Should I Consider for a School Table?
The brand for your classroom table is often dependent upon what style you have chosen, as noted above. Each manufacturer specializes in a few styles of classroom tables. For example, Diversified Spaces designs mostly within the science and lab table space. Their classroom tables also include some activity tables, drafting tables, and workbenches, most of which are made of wood.
Similarly, National Public Seating offers a number of science tables as well as folding tables, mobile tables, and adjustable tables. Classroom tables by NPS are great quality, well-priced, and often in stock!
Pedagogy is another top brand for classroom tables. Our current selection features all adjustable height activity tables in various shapes, sizes, and finishes.
Regardless of the brand you choose, our team will help you find the best style and fit for your classroom table needs.
School Furniture from Shiffler Equipment
Classroom tables provide a dedicated space for students to work and collaborate, helping to improve focus and organization. They also facilitate group activities and discussions, promoting teamwork and socialization. Additionally, tables can be adjusted to accommodate different learning styles and activities, such as writing, reading, and computer use.
In conclusion, choosing a table for school is an important decision that requires careful consideration. You'll want to think about size, shape, material, style, and cost to ensure that you get a table that is perfect for your needs and budget. With the help of these parameters, you can easily find a suitable table for your school. We encourage you to work with us to find the right classroom tables. Our goal is to help choose a table that you will be comfortable using for years to come.