Modern and traditional classrooms approach design in different ways. Yet, school chairs are at the core of both furniture-wise. Chairs are fundamental in nearly every room in every building, regardless of the facility or industry. This reigns very true for schools which require a wide variety of different chairs to satisfy the diverse needs of a school. Each unique room and space needs to prioritize the student in terms of their comfort.
Choosing the proper chair for the various rooms in your school can prove to be challenging. We often repeat history and reorder the same styles that have been in place for what feels like centuries. Our goal with this buying guide is to help answer some common questions that come up with our customers as we help them think through their school furniture purchases. While we pose the most frequent questions below with our knowledgeable answers, we encourage you to reach out to us with your specific needs. You can reach us here on our website via live chat, via email, or even phone (833-201-8186 Monday - Friday: 7:30 - 7:00 EST).
What Should I Consider When Choosing the Best School Chair?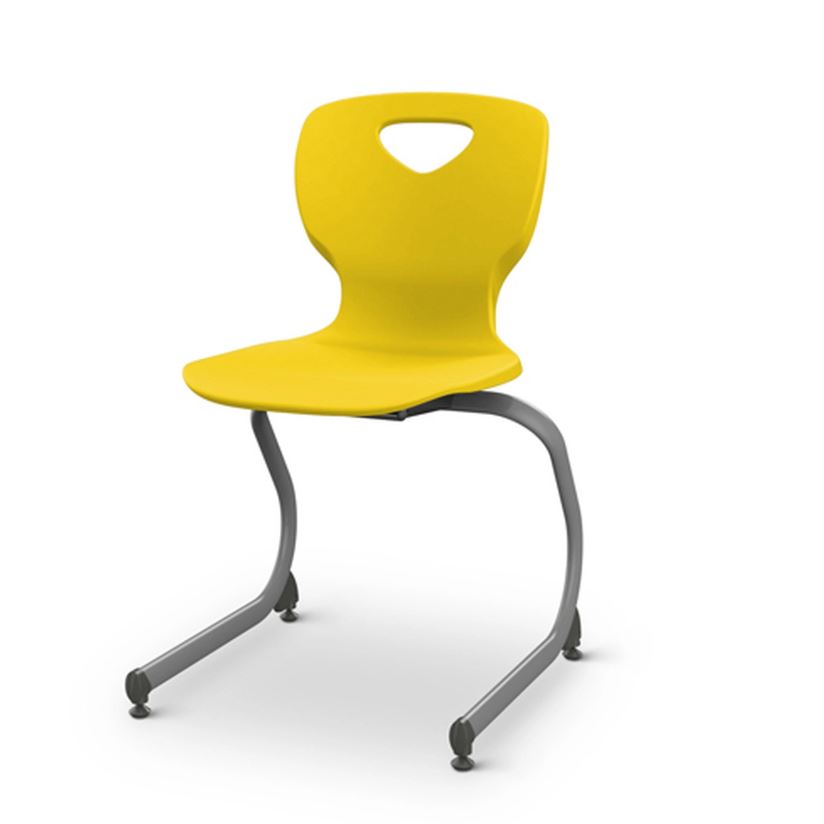 Choosing the best school chair for your needs involves considering several factors. Here are some tips to help you pick the best chair for your school or classroom:
Consider the size and weight of the classroom chair: It's important to choose a school chair that is the appropriate size for the user. A low chair that is too small or too large can be uncomfortable and lead to poor posture. It's also important to consider the weight capacity of the school chair, especially if it will be used by older students or adults.
Think about the materials: What are school chairs made of? School chairs are typically made from a variety of materials, including plastic, metal, and wood. Plastic student chairs are often the most affordable, but they may not be as durable as other options. Metal chairs can be more durable, but they can also be cold to the touch and uncomfortable to sit in for long periods of time. Wood chairs can be more expensive, but they tend to be more durable and comfortable.
Consider adjustability: It's important to choose a school chair that can be adjusted to fit the user's needs. This may include adjustable seat height, backrest angle, and armrests. Adjustability can help ensure that the student chair is comfortable and promotes good posture.
Look for durability: School chairs are subjected to a lot of wear and tear, so it's important to choose a chair for a classroom that is durable and able to withstand daily use. Metal chairs are durable and can make for solid school chairs. Look for chairs that have a good warranty and are made from high-quality materials. If your existing chairs lack durability, keep in mind we offer replacement chair parts including chair seat replacements, if need be.
Think about the environment: If your school or classroom is prone to spills or other accidents, you may want to consider a school chair that is easy to clean. Plastic chairs are typically the easiest to clean, but you can also find fabric or vinyl chairs that are treated with a stain-resistant coating.
Consider the style: While function is the most important factor when choosing a school chair, you may also want to consider the style of the chair for a classroom. Cantilever chairs are sleek and appear to be gravity defying. Even a sled base chair lends a more stylish classroom appearance. Choose a chair that fits the decor of your school or classroom and that your students will enjoy sitting in.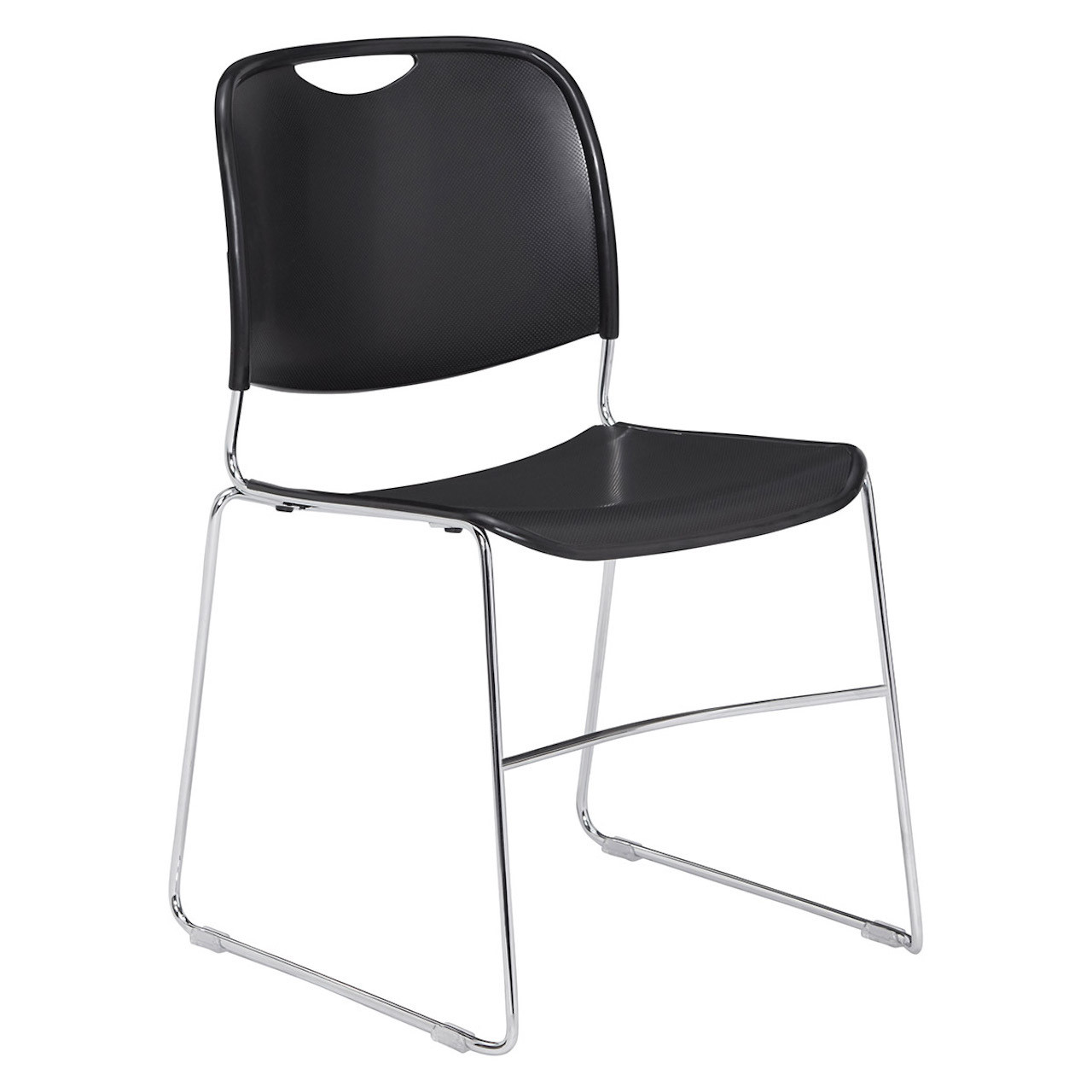 By considering these factors, you can find the best school chair for your needs and ensure that your students are comfortable and supported while they learn.
School Chairs FAQs
Below, we are listing common questions with our expert answers. We have plenty of styles of school chairs for sale and are eager to help you find the right fit for your school. This compilation of questions is not all-inclusive but hopefully helps you continue your school chair hunt journey!
What Size Chair is Best for Young Students?
A student chair should be proportionate to the size of the child. For young students, tables and school desks are often much lower than those of upper grades. Therefore, you should select a school desk chair that has a 10" seat height.
What Chairs are Best for High School Students?
Similar to the above statement regarding smaller sizes for smaller children, high school students need classroom chairs that match their stature. We recommend 18" seat heights for school chairs as those will align with the school desks. You may also consider book rack chairs as older students often have multiple textbooks on hand.
What are the Best Stools for a Science Lab?
Science labs are often outfitted with high top science lab tables. In order to comfortably sit at these lab tables, science lab stools are a necessity. Lab chairs often refer to science stools. The best stools for a science lab are adjustable, allowing the student to sit at the height they prefer. While most classroom stools are backless, there are lab chairs with backs.
What Chairs Should be Used in a Teacher's Lounge?
Teachers deserve a comfortable lounge to relax, eat, and catch up on work in between classes. Café chairs can be a stylish addition to a teacher's lounge and work well as a teacher chair at a lunch table or conference table. If there is a true lounge area for teachers to rest in, a gaming chair would be a perfect addition to this space. Gaming chairs offer full body, neck, and head support and work as rolly chairs for easy mobility. An office chair can also be useful in a teacher's lounge for those times when your teachers are using the space to lesson plan and grade papers.
What Style Chairs work Best in a School Auditorium or School Gym?
Chairs are best chosen based on function. For a school chair in an auditorium, chairs with a tablet arm might be ideal for test-taking situations. Metal chairs, foldable chairs, and stackable chairs work well for gyms so the school chairs can be easily stored for different functions. Folding chairs are also functional for an auditorium instead of using typical banquet chairs.
How Much do School Chairs Cost?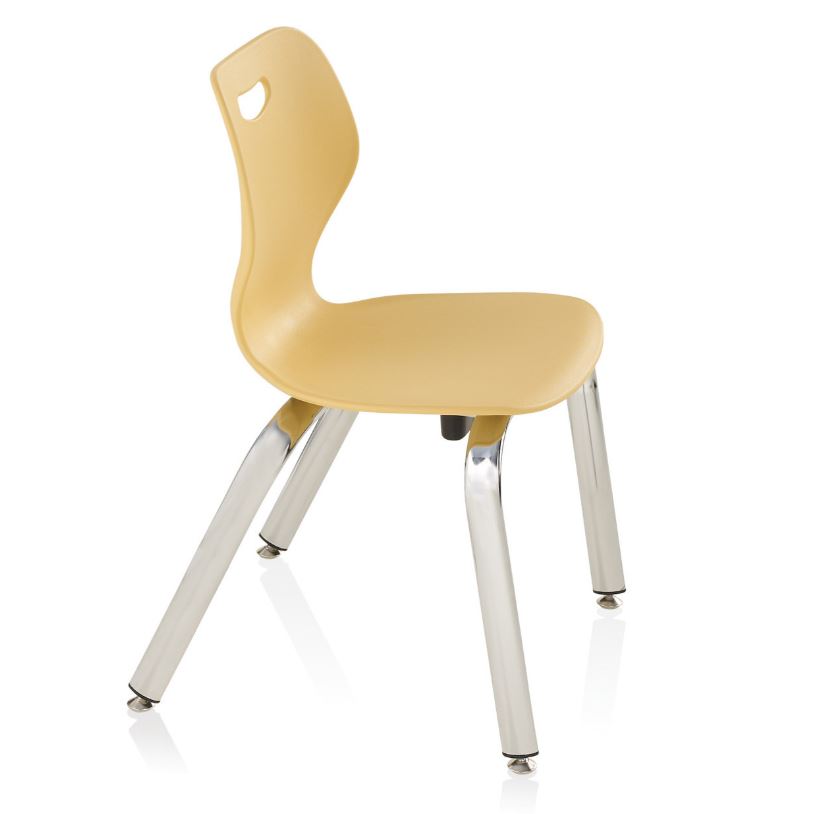 As outlined above, there are many school chairs to choose from which means there is a range of prices. School chairs start around $45 each but we can help negotiate a bulk or volume discount rate for you. Chairs with casters and chairs with tablet arms are upgrades that would also change your cost for your school chairs. Regardless, reach out to your internal account manager or our customer service team for pricing assistance.
How to Lock a Classroom Door with a Chair?
Sadly, this question has become quite popular with the uprise of school attacks. Nearly all of the school chairs we offer can be wedged around the door handle and into the door jam. This can help keep your classroom door shut but we can't guarantee complete security. We recommend investing in a door bar security device for the ultimate safety.
Top School Chairs from Shiffler Equipment
Helping students stay comfortable and focused while learning is no easy feat. By finding the ideal school chair for your classroom, you can reduce distractions and create a welcoming environment for students and visitors alike. Whether you need chairs with wheels for your class or folding chairs for your next gym reception, we have it all. Our staff at Shiffler is well-versed in all types of school chairs and are always available to help. Reach out any time - on this website, live chat, email, and phone (833-201-8186 Monday - Friday: 7:30 - 7:00 EST). Together, we will outfit your classroom with the top school chairs and keep your students smiling!