The school year has begun again; students are filing back into our schools, and we are once again reminded of the minute details that were accidentally overlooked when preparing our classrooms. We spend months working with our customers over the summer to brainstorm top to bottom room refreshes. White boards have been cleaned or swapped out, pencil sharpeners have been upgraded, and analog wall clocks have been reset. Floors are spotless and waxed back to their original finish (which should have been our reminder!), the first chairs and desks are placed into a perfect gridded layout, and SCREETCH! A chair is slid across the pristine floor and leaves a distinct line from its route. The dreaded noise and damage of the chair leg was that small detail that we forgot to address! But we have plenty of options to protect the floor!
Floor protection could be the most important school room essential. Whether your school is higher education or a preschool, all chairs have the potential to scratch and damage flooring. Chair glides will reduce classroom sounds and prevent your chairs from wobbling.
Even within our own website, there are hundreds if not thousands of options when it comes to floor protection. In this guide, we are doing a deep dive into one of our most popular chair glides: felt chair leg caps.
Chair leg caps with felt are somewhat self-explanatory – they are felt caps for chair legs that are made of nylon with thick felt bases. They are quick to apply, are a snug fit, and are long-lasting. The best chair glides for tile floors are felt glide caps. They offer a frictionless, sliding chair leg which is perfect for a classroom or even office place.
Good quality floor protectors are surprisingly not easy to come by. Many brands and manufacturers design their felt chair glides with low-quality materials, making you have to repurchase year after year. We have heard many stories of frustrated customers who need a long-term solution for floor protection that reduces damage, improves mobility, eases noise, and protects the chair itself.
Image 1: Shiffler Felt Glide Chair Cap
Competitor's Chair Leg Caps
As any good company who stands behind their brand does, we have extensively researched our competitor's chair glides. We feel we must know what else is available to our customers in order to ensure we are delivering a superior product. That being said, here are the most common areas of improvement we identified with our competitor's chair leg caps:
Most of our competitor's products have an adhesive back. While that might suggest a quick application process, we find that the adhesive back on a chair cap does not stand the test of time, especially in a busy classroom. We also noticed other companies glue on their felt bottoms to the nylon or rubber body of the chair cap.
We proceeded to purchase several competitor's chair glide caps and found some overarching issues in terms of material. They are often fabricated with inconsistent materials and uneven felt. Both of those concerns can hinder the functionality of the chair cap itself. If the felt is uneven, it can make your chair wobbly and a distraction for your students or staff. Inconsistency in materials are concerning as different materials wear in different ways. You will not be able to predict or control how often you will have to replace your floor protection.
A secondary use and benefit of chair glides is the additional protection they provide for your chair itself. We found that our competitor's chair caps often accelerate premature product wear and degradation. They were not sturdy enough to stay on the chair leg and thus caused multiple replacement rounds as well as damaged floors in between.
Shiffler's Chair Leg Caps
Now that we have reviewed the competitor's felt chair caps, you will notice the stark contrast in how Shiffler produces their chair leg caps:
One of the key differentiators between our Shiffler chair glides and the other chair caps out there is that our caps have consistently thick high density felt. As you can see in the image below, our felt is solid and provides cushioning for your chair and will not easily wear down.
The other major feature of our chair leg felt caps is that our felt is molded onto the cap body. This means the felt will never separate from the nylon cap! This is crucial in the longevity of your chair cap. Many of our competitor's have stick-on felt that could easily dislodge from the cap itself.
Thanks to all of these improved features of our chair leg caps, we provide maximum performance, protection, and extended product life. This means you will spend less time having to requote, resource, and repurchase chair caps on a yearly basis. Not only will that save you money, but it also saves you stress and time! Plus, once again it keeps your floors in new condition and your classrooms quiet and screech-free.
Image 2: Cut-away Shiffler felt floor glide. The orange highlight shows the thickness of our felt compared to competitor's.
Our felt glide caps offer a deeper, snugger fit than most of the other chair caps on the market. We use a felt base molded into the sturdy nylon cap material. This helps keep the shine on the floor longer, while extending the life of your chair glides. Chair glide caps also reduce noise in the classroom or office space, meaning fewer disruptions and more productivity.
Even though our chair felt glide caps are snug, you can always add a drop of Gorilla Glue to the inside of the cap before installation. It keeps the cap in place yet allows for removal. While our felt will not rub or wear off like those glue-on or peel and stick type of chair caps that we found, there may come a time when you want to remove your chair leg caps. Our exclusive Glide Cap Removal Tool takes your chair glide off without damage to the glide or the chair.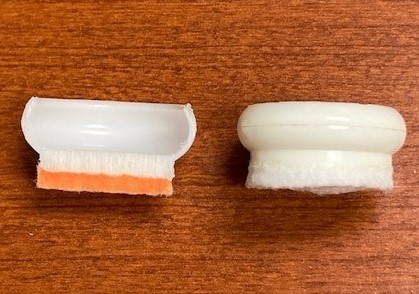 Image 3: Cut-away Shiffler chair glide cap showing consistent felt fully attached to nylon body.
We here at Shiffler Equipment are one of the top floor protection distributors and manufacturers. Specializing in chair glides, we pride ourselves on our knowledgeable staff, wide variety of floor protection options, and our year-long stocked floor protectors ready to ship to you!
The time is now to upgrade and get rid of your old chair cap glides that are falling apart. You are a few clicks away from never having to hear the loud sliding of chairs across your floors! Meanwhile, you can protector your floors, save your budget, and keep frustration down with the maintenance team, all with one small piece of nylon and felt.