Partitions in a public bathroom are typically the first and most noticeable architectural element you see in a restroom. They are often also first targeted for graffiti, dents from slamming, and loose hinges from (over) swinging. Unsightly bathroom stalls may not be located in your campus's most valuable room, but they are in the most used and frequented space: the restroom. You therefore want to ensure that your bathroom appears well-kept and having a damaged or old bathroom stall certainly is a place to start.
Students, teachers, employees, and guests alike deserve a clean and well-maintained restroom, and it all starts with the state of your bathroom stalls. One of the most universal components of a restroom are bathroom partitions. While they are far from standard in terms of size and materials, we here at Shiffler have worked hard to put together the below diagrams and guide to help define all of the various restroom partition parts.
Do note that we may ask for images of your current restroom parts or rest room as a whole. Measurements, brands, materials, and colors are also useful pieces of information that will assist us in creating a cohesive replacement process for your bathroom stall. We may also want to discuss your project over the phone as we want to make sure we outfit your school's bathroom with the correct bathroom stall layout. Toilet room dimensions are key for planning out bathroom stall dividers, bathroom stall doors, and restroom partitions so we advise to have those prepared for our development conversations. We can even help accommodate ADA requirements and installation as part of our process with you for your bathroom stalls.
We consider ourselves experts here at Shiffler Equipment, but even for us, bathroom partitions and the corresponding toilet partition hardware parts can get complicated! Each partition is different and every bathroom stall requires a different brand, material, mount style, components, and of course parts. The following guide walks you through the various elements of a bathroom stall so you can begin to plan your bathroom renovation and/or bathroom stall updates.
What are the Top Brands for Bathroom Stalls?
If you are updating existing bathroom stalls, matching the brand is a great place to start. Our team can help you identify the brand based off of the hardware and sometimes even the mount style. Thankfully, we carry all of the top brands of bathroom stall partitions, including but not limited to:
Whether you need bathroom stall doors, bathroom stall dividers, or bathroom partition parts or hardware, we can help you find exactly what you need from the brand you require. If you are starting a brand-new bathroom stall project, our team can help you find the best fit for a brand as they vary in the materials, lead times, and of course price points. As with most items on our site, please reach out to a Shiffler representative if you do not see your brand. Chances are, we can still work with them and quote the project accordingly.
What is the Best Material for a Bathroom Stall?
Choosing the best material for your bathroom stall is a perfect element to look into after brand when working on your bathroom stall project. You may want to match an existing material or perhaps you are looking to upgrade or update your existing bathroom stall. Regardless, the list below as well as the corresponding graphic should give you a comprehensive look at the options we recommend:
Metal (Powder Coated / Baked Enamel)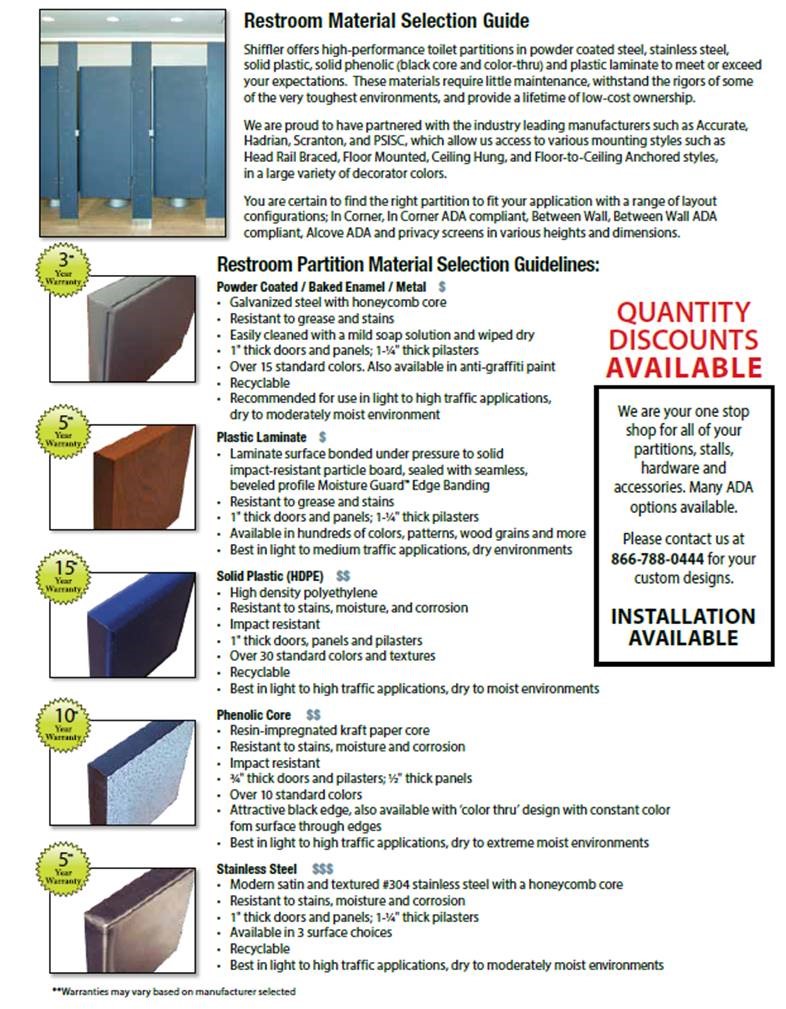 As you can see, partitions come in a variety of solid, durable materials that will all last for years to come. Each material has a plus or minus depending on your use or location; for example, solid plastic may be ideal if you are putting bathroom stalls in at a public beach near salt water. Stainless steel partitions are easy to wipe clean but may get dented if they are used as an elementary school bathroom partition.
Several of the plastic materials are available in a variety of colors. Once you have identified your material of choice, we can help narrow down the best brands from the list above that will get you the best price on your bathroom stall project. Each brand can then share their specific color swatches and availability so you can choose a color for your partitions.
If you are trying to match your existing material (or color), sharing your bathroom stall's brand, model number, and even hardware images can help our team determine the correct match. As with every step in your quest to update or refresh your bathroom stalls, we encourage you to reach out to our Shiffler team via chat, phone, or email. We will assign you to a salesperson who can help guide you through the process with speed and accuracy.
Which Mounting Style Do I Need for a Bathroom Stall?
Just as there are different materials that work well in various locations for your partitions, your bathroom stall can also have a unique mounting style that is specific to your site. Below, we are listing the most common styles of bathroom stall mounts, as well as a graphic to help you visualize what you need and/or what you already have in place.

While some of these bathroom stall mount styles are self-explanatory, we highly encourage you to measure and review your specific bathroom to make sure we source the proper partitions for you. While all styles of bathroom stall mounts are stable and reliable, your specific bathroom may dictate which works best. For example, if you are adding bathroom partitions to a small school bathroom, you may want to avoid floor-to-ceiling partitions as that style may minimize the space. Ceiling hung bathroom stall dividers require a non-tiled ceiling which may be limiting depending on your construction, as well.
Which Individual Components Should I Purchase for a Bathroom Stall?
As with the other bathroom partition choices, your specific project and layout will require a different combination of bathroom stall components. Bathroom stall dividers are different sizes than bathroom stall doors, i.e., you will not be able to use the partitions interchangeably. Below, we are listing the different bathroom stall components that you will most likely need for your bathroom partitions: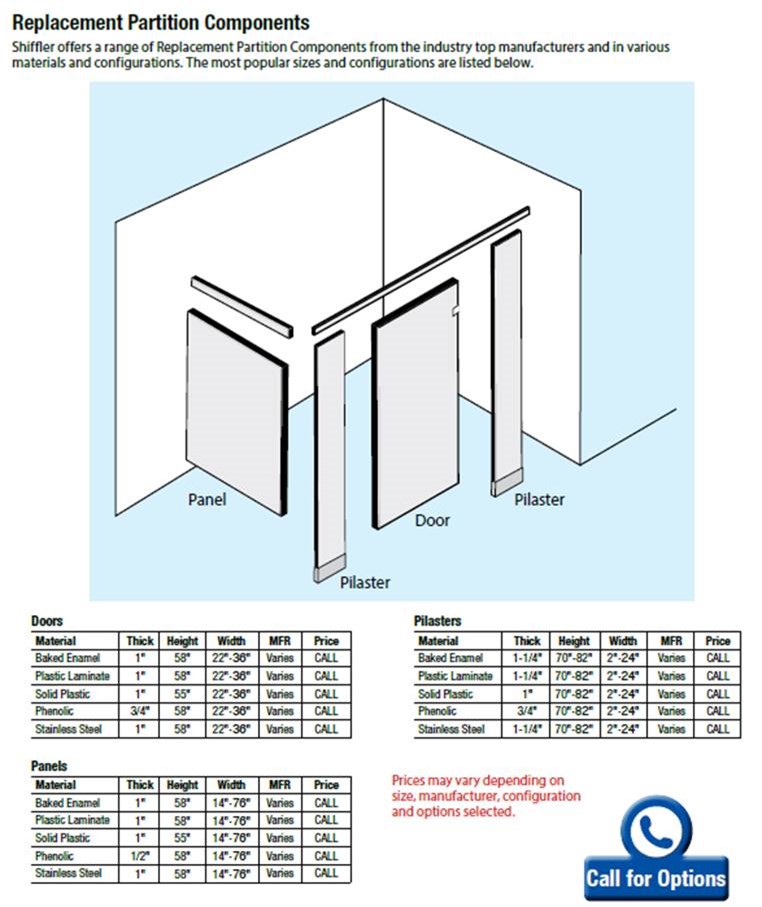 Using the diagram above, we encourage you to start to think through the different bathroom stall dividers and have your toilet room dimensions handy as you being to lay this out mentally. Of course, our team here at Shiffler can help guide your planning but we do need your assistance with measurements, images, and ideally a layout of the room (with existing bathroom stalls, if applicable).
What Bathroom Partition Hardware Should I Purchase for a Bathroom Stall?
Now that you have theoretically chosen your bathroom stall brand, material, mounting style, and components, the final but arguably the most important items to review are the related bathroom partition hardware. While the list below may be long, many of the bathroom partition hardware components are necessary. Whether the parts hold the bathroom stalls together (brackets), lock individual bathroom stalls (latches), or are a convenient addition (hooks), there are many options to choose from. Our diagram below helps you identify each piece of hardware for your bathroom stall as well as the corresponding catalog page.
Our key brand partners of our top bathroom stall parts include AMPCO, ASI Storage, Allegion, Bobrick Washroom, Hadrian Inc., Jacknob Corp., Metpar Corp., and Scranton Products, Inc. We carry a wide range of bathroom partition hardware, including but not limited to:
Hinges

Surface Mounted
Wrap-Around
Integral
Full Height (Continuous)
Latches

Surface Mounted – Slide
Internal (Turn or Slide)
Brackets

Stirrup
Full Height (Continuous Channels)

One Ear Bracket
Two Ear Bracket
U Bracket

Urinal Screen Brackets
Complete Partitions from Shiffler Equipment
We hope our buying guide gave you a useful overview of everything that goes into replacing, upgrading, or adding a bathroom stall to your school, office, or public facility. We strive to make this information manageable but understand that with all of the above-referenced elements, there most certainly are still questions abounding. As always, we recommend and encourage you to reach out to our team here on our website via chat, call us, or email us. In order to prepare for your consultation, we urge you to take pictures of your bathroom space, obtain measurements, and review this guide to start thinking about what style bathroom stall works for you. Shiffler is your start to finish solution - We can even include installation as part of your quote and project. Create a welcoming bathroom for everyone with a simple partial bathroom stall update or a full renovation of partitions and your staff and associates can be at ease.