Choosing cafeteria tables and cafeteria table replacement parts can be a daunting task, especially if you're responsible for furnishing a large dining space or cafeteria. Often times, you have limited space to accommodate lots of students and occasionally even staff. A school cafeteria is sometimes used as a multi-functional space and thus requires cafeteria tables that can be folded and easily stored.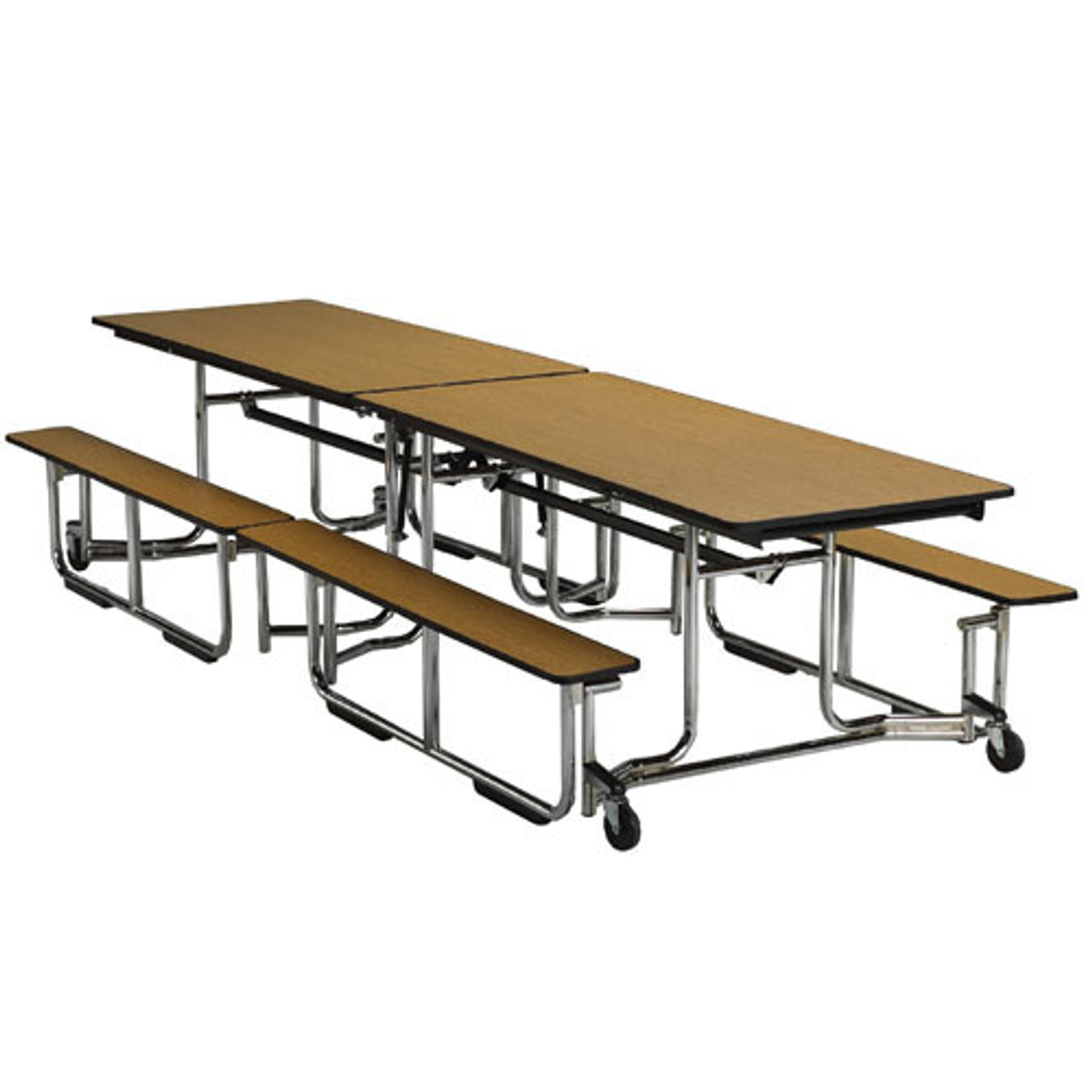 Lunchtime should be a safe haven for students; it is the one time during the day that they can sit back, eat, and socialize. They need the correct lunch table in order to be comfortable and not have to consider anything but the task at hand. Consequently, there are many factors to consider, such as size, shape, material, and durability. This buying guide offers Shiffler's top tips to help you make the best choice for your cafeteria table needs. As with all of our products, we encourage you to reach out to our knowledgeable staff for guidance on your specific facility and needs. We are available by phone (833-201-8186), email, or even live chat here on site. Without further ado, here are our tips for choosing cafeteria tables:
1.
Determine the size of your space and the number of people you need to seat.
This will help you determine the size and quantity of cafeteria tables you need. Consider the size of the room, the layout, and the number of people you need to seat. You'll also want to consider the amount of space you have for tables and chairs, as well as the amount of space you need to allow for movement and circulation. Cafeteria tables can be as short as 4 feet and can go upwards of 8 feet. If you need an adjustable amount of seats, you may consider a table without attached or fixed seating. Having fixed seating on a mobile table, however, allows you to predict the amount of space and seating you require.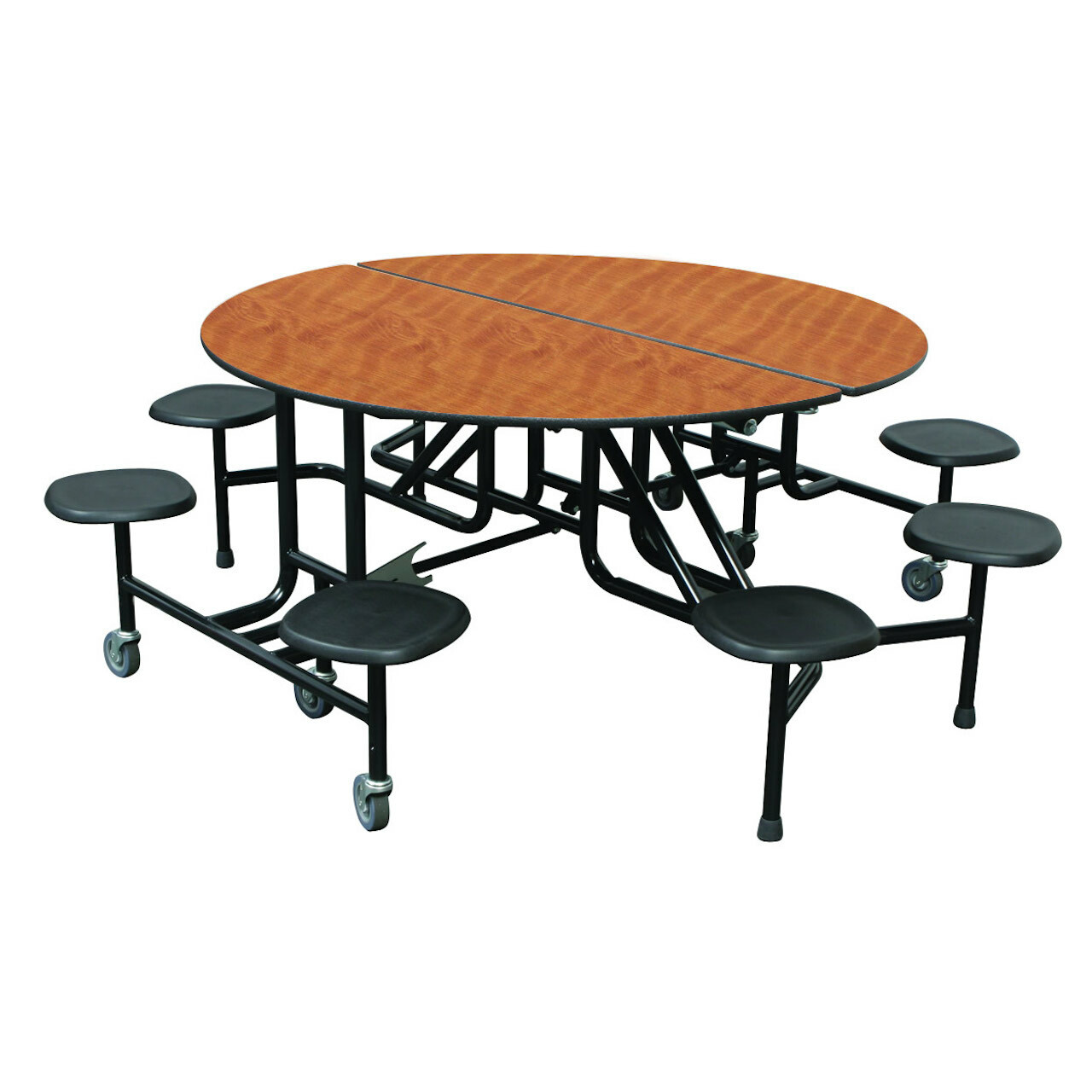 2.
Consider the shape of the lunch tables.
Cafeteria tables come in a variety of shapes, including rectangular, square, round, and oval. Rectangular tables are the most common and can seat the most people, but they can take up a lot of space. Square tables are a good option for smaller spaces, while round and oval tables can be more visually appealing and create a more relaxed atmosphere. The shape of your cafeteria tables also dictates how the students will socialize. Long rectangular tables allow students to have separate conversations while round cafeteria tables allow for a full-table discussion. This is good to keep in mind if you are using lunch tables for activities other than lunch, too.
3.
Decide on a material for your lunchroom tables.
Cafeteria tables are typically made of wood, metal, or plastic. Wood lunch tables for schools are classic and can be more expensive, but they are also durable and can be refinished if they become damaged. Metal tables are also durable, but they can be noisy and may not be as comfortable as wood. Plastic tables are the least expensive option, but they may not be as durable as the other materials. Again, be sure to consider the age range and types of activities to help dictate a suitable material for your cafeteria tables.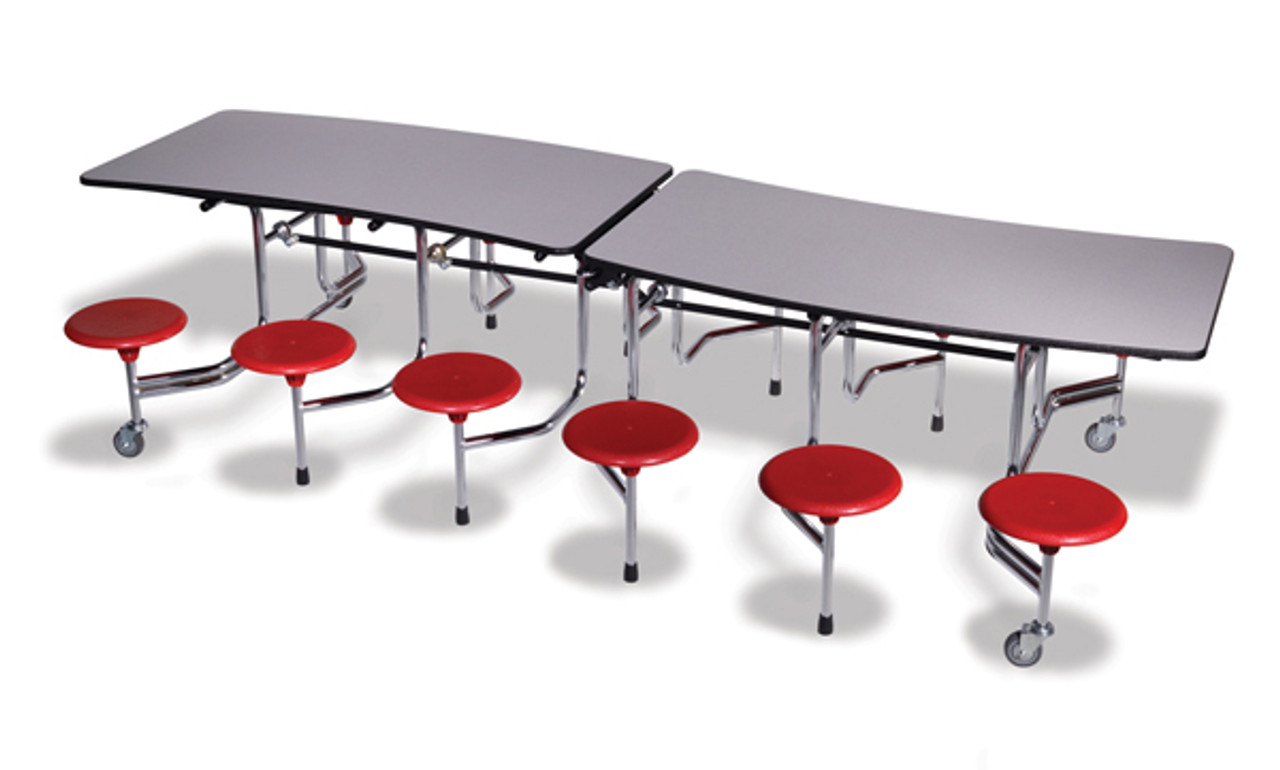 4.
Consider the durability of the lunch tables.
Cafeteria tables get a lot of use, so it's important to choose tables that are durable and can withstand heavy use. Look for tables with sturdy construction and high-quality materials that will stand up to wear and tear. If you're concerned about spills or stains, consider tables with a laminate or plastic top that can be easily cleaned. Also look for tables with reinforced edges, such as DuraEdge, Dynarock, or Edgeguard. This helps prevent damage from banged chairs and precludes the cafeteria table's edge from coming apart.
5.
Think about the appearance of the cafeteria tables.
The appearance of your lunchroom tables can have a big impact on the overall look and feel of your cafeteria. Consider the style of the room and choose tables that complement it. You may also want to consider the colors of the tables and chairs, as well as any graphics or branding that you want to incorporate. You may also want to think about purchasing a convertible bench cafeteria table. They have a small footprint and can help your cafeteria maintain a minimalistic look.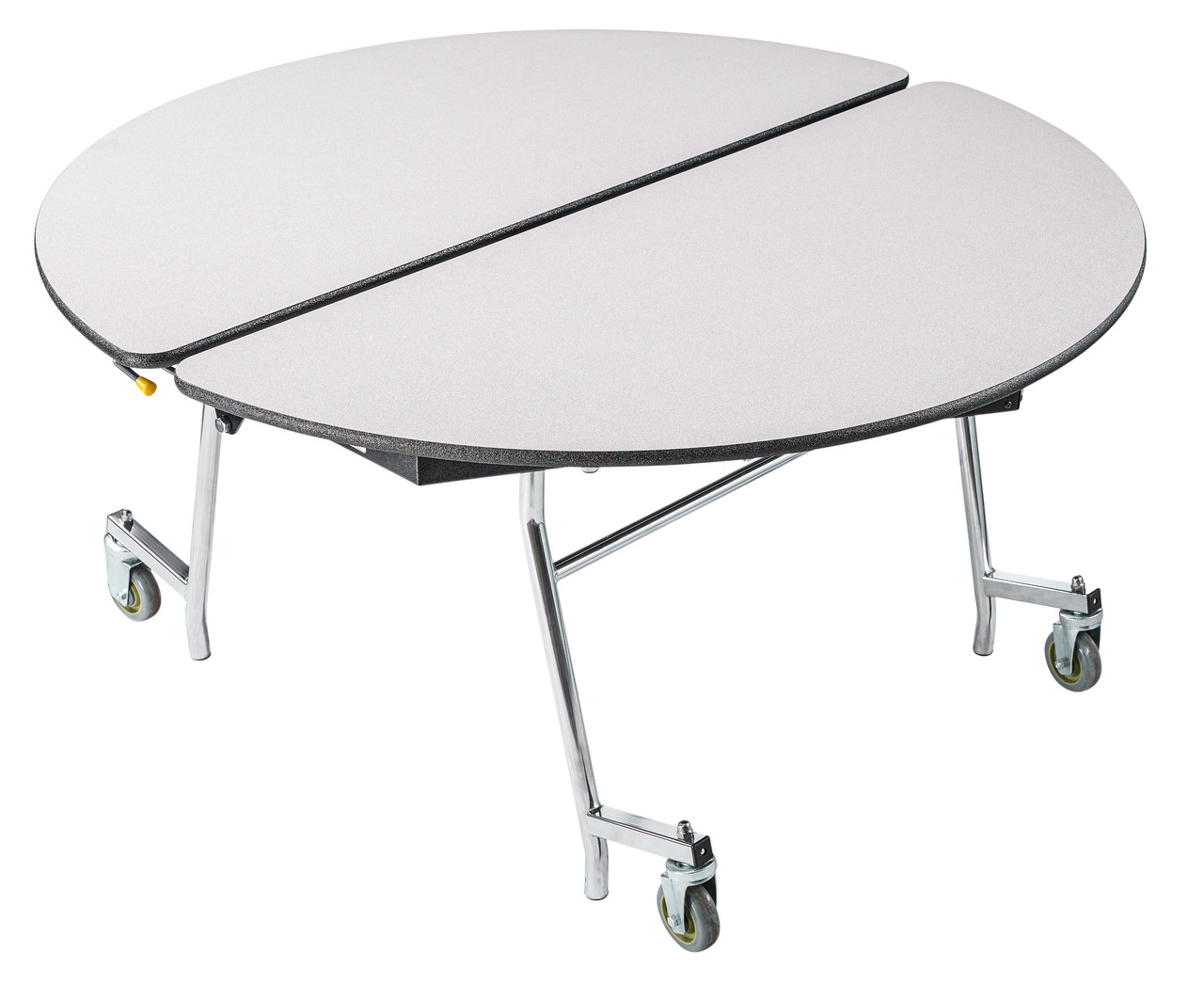 6.
Don't forget about replacement parts.
It's important to think about replacement parts when choosing cafeteria tables. Even the most durable tables will eventually need to be repaired or replaced, so it's important to choose tables that have easily available replacement parts. Cafeteria stool tops are the most popular replacement item as they help extend the life of nearly all cafeteria tables. We offer brand-specific replacement stool tops as well as our universal cafeteria stool top with coordinating bracket, depending on your cafeteria table. We also have a wide variety of replacement wheels, cafeteria table tops, and numerous other rubber caps and parts for cafeteria tables. These replacement parts for lunch tables will help ensure that you can keep your tables in good condition for as long as possible.
Cafeteria Tables from Shiffler Equipment
In closing, choosing cafeteria tables and cafeteria table replacement parts involves considering a range of factors, including size, shape, material, durability, and appearance. By taking the time to carefully consider your needs, you can choose tables that will provide a comfortable and functional dining space for your students or employees. We welcome you to reach out to our team at any time via phone (833-201-8186), email, or even live chat here on site. Happy Shopping!